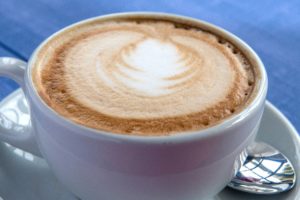 There has been a cafe in this building under the same name since 1926 as far as we know.  Our customers tell us that it was one of the few places which managed to source chocolate during the war.
We love hearing about family visits to Ann's Pantry, if you have a story to share, why not get in touch? Send us an email, contact us on social media, or send us a letter.
To keep Ann's Pantry going in the way that many people remember it, good home cooked food with friendly service. 
To serve local produce as seasonally as possible.
To grow what we can, you will see seasonal herbs in the garden, and the apples from our tree go in to our chutney and crumbles.
 To serve fair trade tea, coffee and hot chocolate, which means the grower gets a good price as well as you getting the best quality cuppa.
 To reduce the amount of single use plastic waste, our take out cups and containers are compostable or recyclable.  The bags we use are compostable or recyclable.  The local waste disposal company we use sorts and recycles as much as possible of our rubbish.
To pay a fair wage and treat our staff well.
To source and sell gifts which are made locally or which are Fairly Traded.
We employ mostly local staff, with the occasional holidaying student joining us for some seasons. We look for friendly, helpful staff who are passionate about the local area and love food.  We are a close knit, hard working team, who enjoy each other's company inside and outside of work. 
If you think you have what it takes to be a part of our team, drop us a line.